I'm really happy with the way things are taking off for me with the baking business. I guess you could call it a business since I managed to work out my first paying job yesterday! My friend Leah, who has an awesome website,
NeatMom.com
met up with me yesterday to talk about this new part of my life. We had a great discussion about finding something in life that you're really passionate about, finding something that you love to do and watching it flourish in no time. It was really great to talk about what I've been doing lately and share my interests with a friend.
Leah has 3 daughters who share birthdays super close to each other and she's having a joint birthday party coming up this weekend for the girls. She asked if I would be interested in making 3 cakes for their birthday party, each with their own theme. So I will be making a Pokemon Cake, an Elmo Cake and a Disney Princess cake. This should be a lot of fun because each of these designs are so different that I'll really get some good experience making each one. I already have some ideas put together and they are going to be so cute!
Since things are moving at a good pace I thought I should maybe think of a creative name for my "business". So if you look up at the top of my blog, you'll see that the name changed to Le Petit Treat. I like it, I think it's catchy and it works with what my focus is, small, cute desserts. Of course, if people want me to do other things like cakes and pies, I'll gladly try my hand at it! I'm currently in touch with someone who will hopefully be making a cute logo for me and so you'll be seeing some blog changes in the near future here.
Thanks for following my journey and definitely let friends know that I'm here. The more people that know, the more I get to bake, the more I get to bake, the more people get to enjoy the happiness of baked goods. :) And who wouldn't want that?
I'll leave with a cute cartoon I found online: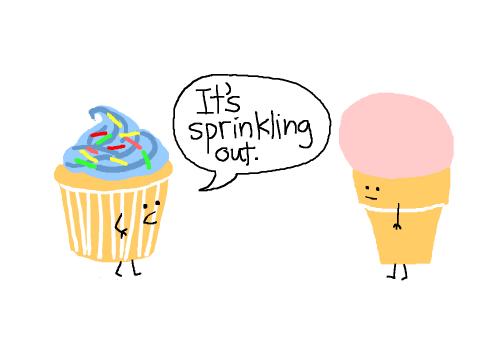 Photo credit