Alright, go head, I'm holding out my wrist. You can slap me now. I know, I've been a baaaaad blogger. Over a month since my last post?! How could I?
Well, now that my wrist stings, I'm just going to fix this little problem that we have. Springtime is finally approaching and I've had my first tastes of that warmer air where I don't even need a jacket and I can drive around with the windows down and Ray LaMontagne up, thus I'm feeling better. Winter always does a number on me, but who doesn't fall into that category? Unless you live in the tropics. Jerks.
My feet aren't dragging at a molasses' pace anymore and the thought of extra hours of light in the day gets me all ready to try new things. In these colder, gloomier days I've been perusing various baking websites to gather up ideas for my spring overhaul. I have an up and coming project in the last weekend of March that I'm really excited about. I was asked to make a cake for a 3rd birthday party for an adorable little girl who wants Dora and Diego to grace her cake. You got it little lady. (Stay tuned for pictures and updates on that awesome cake!)
Spring is also the downfall of me. Why? Because of these:
Oh cadbury mini eggs. How you will be the death of me this spring. You always are. I am determined to find a way to incorporate these into a baking project for Easter. Just wait.
Speaking of incorporating yummyness into a baking project, take a look at what the folks over on
CakeSpy
recently posted. Yes my friends, a Girl Scout cookie cupcake. Say it with me, HEAVEN.
A coconut cupcake with Samoa crumbles on top. If I had a box of Samoas in my house I would be making these, stat. But alas, the universe is against me and my weightloss strategy wins again so that cannot happen. Instead, I will just oogle over their deliciousness.
And lastly, other baking cuteness I've come across in recent days.
I'm always a huge fan of
Hello Naomi
and her adorable cupcakes.
Then of course there's my friend,
Bakerella
, with these adorable as always St. Patty's day cake balls.
And who says you always have to eat the cuteness? Why not wear it? I love this
Natalie Dee
Cupcake Shirt.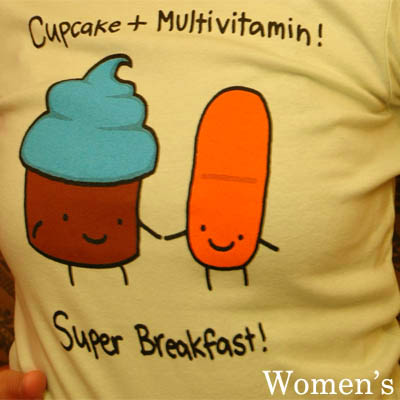 Until next time,